Microneedling Concerns for Darker Skin Tones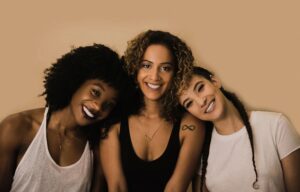 By Michelle Gellis AP, LAc, DiplAc
Microneedling has become an increasingly popular cosmetic procedure for improving skin, texture, tone and firmness. However, for individuals with darker skin tones (4-6 on the Fitzpatrick scale), there are certain safety concerns that need to be considered before undergoing the treatment.
One of the primary safety concerns for individuals with darker skin is the potential risk of developing post, inflammatory hyperpigmentation (PIH) or hypopigmentation. PIH is a condition where the skin produces too much pigment in response to inflammation or injury, resulting in dark spots or patches. Hyperpigmentation, on the other hand, is a loss of melanin in the skin, which can result in light spots or patches. Both conditions can be exacerbated by micro needling, particularly if the treatment is performed by an inexperienced practitioner, or if the device Is set to a depth, that is too deep for darker skin tone. Another safety concern for individuals with darker skin is the potential for scarring. Microneedling can cause small injuries to the skin, and if the treatment is too aggressive, it can lead to scarring.
To minimize the risk of PIH, hypopigmentation, or scarring it is essential to choose an experienced practitioner, who is familiar with microneedling on darker skin tones. They should customize the treatment to the individuals skin type and concerns. It is also imperative that the device used is a well calibrated professional tool such as the AcuLift MicroPen, that the professional has been trained on. It is also essential to undergo a thorough consultation before the treatment to discuss any potential risks, and to ensure that the patient's skin is adequately prepped for the procedure.
In addition to the safety concerns mentioned above, there are certain precautions that individuals with darker skin should take when it comes to microneedling. For example, individuals with a history of keloid, scarring or hypertrophic scarring may not be good candidates for micro needling, as the treatment can potentially trigger these conditions. Similarly, individuals with active acne or eczema flareups may need to avoid micro needling as it can exacerbate these conditions.
In conclusion, microneedling can be a safe and effective treatment for individuals with darker skin tones, but it is essential to take proper precautions to minimize the risk of complications. By choosing an experience practitioner, who uses professional, high quality tools, undergoing a thorough consultation, and using good skin care after the treatment, individuals with darker skin can achieve the benefits of microneedling without compromising their skin health.